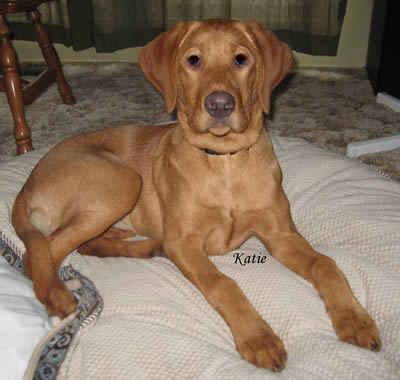 Thanks for all your help and we will keep you posted (oh, I think Quinton is officially attached! He's found his second love and is calling me a few times a day to check up on her!) Annette
A quick update on Katie...she is certainly growing. She is losing her baby fat and is growing into a lean 30 lbs! We just spent 2 weeks at the lake and she LOVED it there. Her favourite times were spent fetching, running through the bush, and attempting to swim! Annette and Quinton ,
Katie has been busy in the last few months! She has been chicken (ruffed grouse) hunting and was a little unsure of the first one she retrieved, but after that, she could hardly control her excitement as soon as we lifted the gun!! Annette and Quniton
She is growing like a weed ...she's at 50 lbs now but is very tall, lanky and agile. We spend a lot of time quadding, fetching and in the bush...and we've decided she is part deer. She can leap over anything from a standstill and she literally bounces through the bush. It is hilarious. She loves to be petted and is calmed down enough now to think she might be a lapdog. Annette
I hope you enjoy the pictures as much as Katie is enjoyed by Quinton and I! Oh, and everyone else she meets...she is such a cutie and loves being everyone's friend - especially when she works her sad puppy face!
Annette and Quinton, Medstedt, SK