Born and raised on a farm at Star City, Sk. David has spent most of his life on the back of a horse! At a very early age, David quickly learned the basics of how to ride and was usually found either riding or playing with his horse. He joined the local 4-H club and began to understand that nothing in life is more fun than to be with your horse. With no horse trailer, David would ride his horse 8 miles to town so he could participate in the activities, and then have to ride back home at the end of the day.
David and his brother would spend the whole summer travelling from "fair to fair", gymkana's, horse shows, and whatever popped up, to show off their riding talents and skills and try to bring home that big trophy or some prize money.
David and his brother Don decided to also take up "team roping", below is a picture of them at the "Melfort Fair" in action!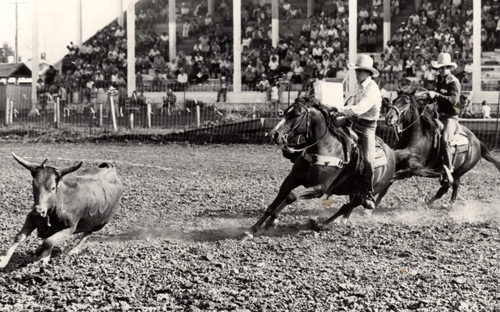 Forced to make a living, David had to give up on his passion for a few years, once he was able to balance work and horses, he again re-joined the horse world. This time, he would be in it forever, So he decided to attend a few clinics and found himself wanting more than just riding, he was more interested in commincating and understanding why horses do what they do and forming a partnership with them! So again, off to more training for himself and more video's and more reading! And so began, the beginning of "Hooked On Horses"
David wanted to pass on his knowledge to others and help them understand what your horse is trying to tell you and why they react they way they do.
David is involved with different organizations, such as, past director for Team Penning and Vice-Pres for Ultimate Horsemanship Challenge.
He continues on a daily basis to learn and grow and pass his knowledge to others.
He offers clinic's for 4-H clubs, riding clubs, and private clubs.
To book a clinic for your club or sign up for one of my clinics
Call: 306-856-4449 or 306-856-4449(cell)